Don't Make Me Use The Bat
Staff member
Impressive!
And no arguments about it -- you lose to the Memphis Grizzlies, at home, while fully healthy, and after 4 days off to prepare, its automatic Pretty Girls. You manage to fall 23 down to them at one point and end up still on the edges of blowout city against them by losing by 18, it should by all rights be Pretty Girls Gone Wild. But in respect of our board culture, I will refrain. So theme =
Buncha Pretty Girls and an Animal to be Named Later
Cisco ( C+ )
-- in quick foul trouble in this one guarding Gay, and after returning in the second quarter did very little before half, although he did have a couple of nice little drop off passes. For some reason seemed to be winning the mental battle against Gay in the third, which was odd considering that Gay was rather emphatically winning the physical battle. Not sure what the defensive scheme was tonight (I rarely am) but Cisco was down inside a lot and finished second of the team on rebounds as we, you guessed it, got crunched again on the glass. Also ended up having to try to stop Grizzlies power players in there on more than one occasion, and at 6'7" and weighing less than Paris Hilton (he's a better actor too) that just was not going to work. Of course did his its the 4th in a meaningless game so I'll hit a three routine, but it led nowhere and finished the night with a grand total of 10pts.
Ana de la Reguera -- apparently the hottie from Nacho Libre? Have not seen. How can people possibly complain about a thread with her in it?
Thompson ( B+ )
-- had himself a favorable matchup from the beginning against the undersized and undertalented Darrel Arthur and did exactly what you should try to do against a smaller weaker opponent -- went right after him in the early going and overwhelmed him with size. Actually eventually chased Arthur from the game and got to face a lot of Hakeem Warrick, who is also ludicrously undersized but who has developed a few SF type skills to try to compensate and caused Jason problems with his offense (shocker). Still a strong first half -- got his inevitable offensive foul, threw a really bad crosscourt pass, but mostly just waded into the action inside and pushed the Grizz's midget excuses for PFs out of the way. Had a burst of scoring against a constantly out of position Grizz defense in the early 3rd and was one of the main catalysts of our inevitable faux hustle "comeback" (you know you are a bad team when your amazing comebacks rarely get you any closer than 10 pts down). Slowed down therafter though, and finally fouled out in the last few minutes as he struggled to contend with Gasol's power inside. Wait'll he meets Shaq next game.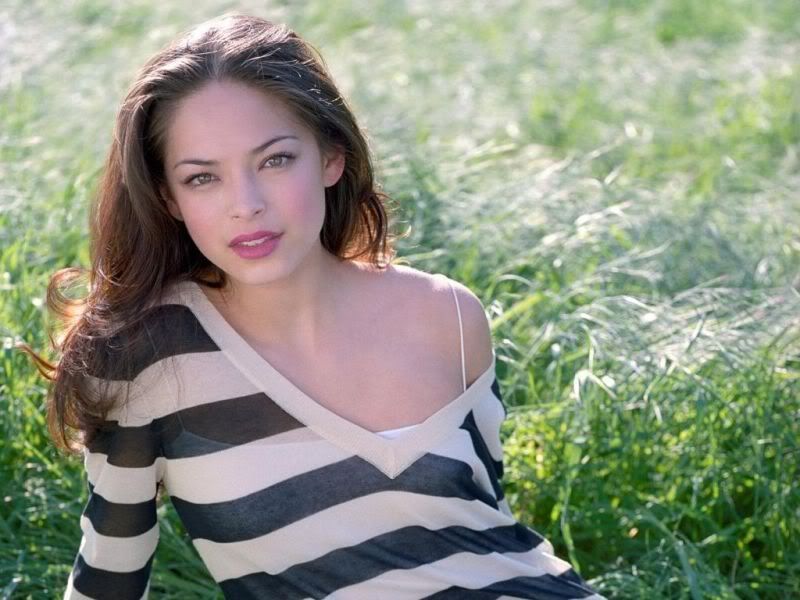 Kristin Kreuk -- Neutragena model and actress Kristin Kreuk. Was Lana Lang on Smallville, which raises the question Lois who?
Hawes ( D )
-- apparently the 4 days off acted as a nice cooler for Spencer's hot streak, because this was considerably worse than the not very good numebrs make it seem. Got into early foul trouble and was not getting much done against the slug-power of Marc Gasol. At least able to play a little in the 3rd without fouls, and nabbed a few boards. Unable to get anything goign on offense though, and Gasol's 3rd quarter sluggishness looked to be more about the box of doughnuts he scarfed at halftime than Spencer. Once he had digested a little and got the sugar rush, he began ponderously pummeling us inside again. Spencer got some garbagetimey hoops in the final couple of minutes after Jason fouled out to pad the stats, but this was basically a 4pt 6reb type effort while the game was kind of on, with foul trouble, and with Spencer's not quite HOF caliber opposing center slowly chugging to a 27pt 5reb butt whooping.
Maxim Roy -- bilingual Canadian actress Maxim Roy
Martin ( B+ )
-- our best player for most of the night, but this was not without its warts. In general when you start to see the empty one dimensional boxscore numbers from Kevin (tonight it was 31pts 0rebs and 2ast) watch out -- bad Kevin can be the Reggie Evans of scorers and put up a bunch of points with almost no impact. This was not quite that though, as noted below. Was quiet early as we fell behind, but began to pick up points as the quarter went along. Scored consistently through the second quarter as basically our only scorer, but it was back to bad, univolved off in his own world Kevin. Got his points, did not look interested in anything else. Had a big third though. Killed OJ Mayo until they finally had to pull him, and here was the exception to the bad Kevin rule -- Mayo was completely ineffective on both sides of the ball. If you are suddenly envisioning an image of Kevin up and smothering Mayo with aggressive defense, well, shame on you, you should know better. But he was at least around enough that Mayo would have had to wake up from his game long nap to score on him, and that in itself is something in Kevin's case. Mayo's awfulness should not be underestimated tonight, because once Quinton Ross replaced him the party shut down abruptly and Kevin was very quiet in the late 3rd and 4th (Ross also canned two big threes in those minutes and I think outscored Kevin after entering). I have enough despite for doing nothing else but putting up empty scoring numbers while your team gets blown off the floor by one of the league's worst squads that this would have been a 31pt B, but holding one of the league's best rookies to a non-existent 6pt 4ast night and chasing him from the game by the end of the third is enough to regain some of that lost ground.
Taylor Swift -- country/pop princess and on the rise hottie Taylor Swift.
Last edited: