Don't Make Me Use The Bat
Staff member
Ok then...11-43 for the first half. That's impressive. 1-13 in our last 14. 3-19 since the new year. 4-19 since Kevin's return and we got healthy (Brad's absence these last few excepted).
In honor of these achievements, as well as the upcoming Valentine's Day, as promised for our long suffering female fans I will attempt a
Pretty Boys...and a Girl...and a Farm Animal
theme...except that somebody suggested that I should make it a sea animal, and since it is for the ladies, I thought what better sea animal to use than a sea kitten, which then of course got me thinking land kittens...so
Pretty Boys...and a Girl...and Cute Little Kittens.
No female worth her estrogen should be able to complain about such a combo.
Alright, here we go -- since women have such incredibly varied tastes in men as to essentially have no tastes in men at all (heck, there have even been women who found
me
attractive) I have decided to throw in one guy of as many different types as I can fit. And a girl. And cute kittens. Too bad Natt doesn't actually play the kids on his bench in blowouts or I could have fit a few more.
Salmons ( D- )
-- given another atomic you are not worthy wedgie courtesy of Ron Artest, but unlike the slaughter in preseason, this one took a while to develop and was at least competitive for a while. Competitive on defense that is, where in the early going neither guy could get anything going on the other, and John did a good job fighting Artest's superior power in the post. But while Artest and Battier took turns battering John, on the other end Artest woke up and began to slowly grind his way into the game offensively and bomb in threes . And somewhere along the line there John just said screw it and decided to get an early jump on the All Star break vacation, turning what had been an ugly scrap into an equally ugly rout. When their #2 scorer gives them 19, and your #2 scorer gives you 2...not a great forumula for winning. Nor were the Rockets going to allow any of that John as passer stuff either as our offense collapsed right along wiht John in the 2nd and 3rd quarters.
Surfer Dude: Bruce Irons
-- the rock star of the surfer world, or so says his bio.
Thompson ( B- )
-- got off to the very strong start carrying us in the early going while being aggressive on offense, and in control aggressive. Not scramble plays, but rather post moves, turnaround jumprs, and just took it at whoever he found guarding him. Maybe got overconfident, as in the second quarter he started challenging even when he should not as the Rockets squeezed the life out of our offense. And then of course inevitably came the foul trouble from hammering on Yao in there that pretty much finished him. Became the foul parade again as a constant distraction, and Jason needs to start working on that. Meanwhile, he quit scoring after the first, and got outscrapped and lost the board battle badly to Scola. Disappointing how this one turned out given the way it had started for Jason.
Rocker Guy/Bad Boy: Anthony Kiedis
-- of the Red Hot Chili Peppers. Never even occurred to me he was thought of as hot until I typed in the search terms, although I had long ago noted the unusual non-heroin addict build for a rocker.
Hawes ( B- )
-- overwhelmed by Yao in the early going, and was just trying to stand behind him with no other defensive plan. Works fine if the guy you are guarding is 6 inches shorter than you. Works not at all when he's 6 inches taller than you. In fact Spencer really might have done the worst job of guarding Yao of any of our bigs tonight, despite being the only one of them tall enough to be able to lick his nipples. Better in the second quarter after returning, was doing his defenisve work earlier rather than waiting to be squashed, and at least grabbed some boards and made some passes when the offense ran through him. Dropped a great move on Yao in the third, a 360 spin to the up and under Yao's arm -- always has those things, just needs to figure out how to use that talent. Foul trouble along with Jason in the third did not cut his minutes much as Natt let him play through it. As an aside, Carl Landry is anice player and nice sparkplug poff the bench for the Rockets, but he's 6'7" and their is no way he whould be able to post Spencer up and go right through him for the hoop. Padded these stats up considerably in the garbagetime here and loses a tick or two here to reflect it -- at the end of three quarters the Rockets were up 19 with Yao having a 24pt 18reb night, and Spencer closer to an 8pt 5reb night.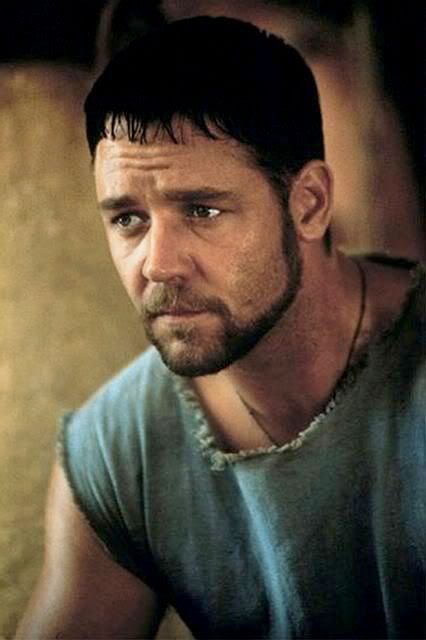 Manly Man: Russel Crowe -- circa the Gladiator period in particular.
Martin ( C- )
-- shut down by Battier in the early going, and Battier used his size over him for rebounds as well (which he rarely does). Kevin was rarely even comfortable enough to take a shot, let alone make one. Began to get a little freer as the 3rd quarter ran down and get some points up in a variety fo ways, but by that point we were already down 20 and the game was over. Natt just went insane wiht the minutes tonight and had Kevin play basically the entire garbagetime as we mounted our "comeback" to make the final margin 12 rather than 20. Because you see Natt is beginning to develop Theusesque instincts about never saying never and clearing the bench, and about drawing up 16pt plays and calling pointless timeouts down a dozen points with 30 seconds to go and stuff. Little of the well rounded player tonight as in those 44 minutes chipped in an anemic 2rebs and 3ast, but do think there might have been some better defensive effort tonight, although it was hard to tell given the normal offensive incompetence of most of the guys Kevin had too guard.
Tall Dark and Handsome/Dark Goth Vampire: David Boreanz
-- watch the hickies.
Last edited: