Don't Make Me Use The Bat
Staff member
Theme = well, for a while there it looked like we were just going to lay down and we were going to get some girlies, but we fought back in the 4th, never threatened, but made them work, and so think we'll go with
Cool Old Beasties
instead.
Boxscore
Casspi ( D- )
-- bad bad outing, with the defensive woes reaching critical stage early, and offensive struggles adding to the misery late. Was just lit up by Prince early -- lit up as in attacked as the weak link, worked over, and scored on again and again until Westphal finally had to pull him from the game because of it. Before the banishment did hit the little jumper on the Reke kick -- several steps inside the three point line though, and maybe that was needed. Started the third on Rip, and got a J dropped in his face, then missed a jumper, and got worked again by Prince. Finally hit a three on the Reke kick to close the quarter. In the 4th picked up his defense, althoguh still got scored over was at least makng them work, but really struggled on offense. A layup rimmed out. Missed another layup after Dorsey started the break. Got the spin move on the break knocked away, but Dorsey mopped up again. Airballed the three off the Reke kick. Missed the running one hander, got it back, missed the follow. And as we tried for a desperate comeback, all these misses were just not things we could afford. Did give us some good defensive board work late, and was competing, but it was a bad night and was not helping.
Anomalocaridid -- if you went snorkeling 500 million years ago you might have run into one of these bizarre old beasties...and never wanted to go snorkeling again. They were actually an apex predator back in those super-primitive times -- a giant segmented arthropod that could reach 6 feet, with segmented shrimp like mandibles/tentacles, eyes on stalks, and undulating swimming fins along their sides.
Landry ( C )
-- one dimensional outing holds this grade down. Got off to a fast offensive start, just too mobile for Big Ben, who moves like his namesake anymore. Good take by Ben early, then drove past him and got fouled. But also quickly picked up 2 fouls the other way, adn was quickly off to the bench. In the 2nd was back in and missed a jumper. Hit the technical FT. Couple more FTs to get us back within 5, but then picked up his third foul and was gone again. In the third started with a bad pass turnover. Then got the ball and was doubled, but showed poor vision and missed Reke open along the baseline. Perhaps a larger problem was his lack of rebounding. Heading into the 4th Carl had 8pts...and ZERO rebounds. In that final quarter started with a bad pass turnover inside, but then got to the line, got a dunk on the break from Reke, and stroked a smooth jumper off the pick to make it 13. Closed his real scoring with a dunk from a Reke feed out of the double, but then in atrue dsipaly of meaningless stat padding, abruptly decided to attack the hoop, get fouled, and tack on 2 FTs with 1.3 seconds to go in a game where we were down 14 and looked to be just dribbling the clock out. Did scrabble together 3 rebs in the final quarter, but 18 and 3 isn't going to do it for a starting PF. When he grabs 7 or 8 you can squint hard and see a poor man's David West. When he grabs 3...its all the lottery nightmares of Shareef, or Wayman, or Antoine Carr all over again.
Jaekelopterus rhenaniae -- so 100 million years have passed, its the Devonian now, a mere 400 million years ago, and you've finally recovered from your Anomalocaridid snorkeling scare. So you break out the old gear, wipe the 100 million years of dust off the visor, and hop back in the water... at which point you run into a 9ft long giant sea scorpion, and may never swim again. Yes, scorpions started in the ocean, and are very very very old. Older than the first insects in fact. Don't think the early aquatic giants had venomous stings. Don't think they needed them, as they too were apex predators at the time until ever bigger and bigger vertebrates (fish) eventually drove them to extinction while their smaller relatives escaped to land to hide and thrive. Interesting thing though -- since it would be highly unlikely for different branches of scoprions to independently evolve poisonous stings, somebody back there way back early must have done it and be a common ancestor to all those who survive today.
Thomspon ( C+ )
-- and so JT's third game of keeping it simple went off a lot like the first two. Played the support role reasonably well, never had a huge impact either way, and generally it felt like something he could handle even if we were more effective with Dorsey taking over for the 4th. Had some good hustle plays early, but was missing all his shots, sitting down with 3 rebs and 0-4 shooting. After returning showed good recognition on one Detroit drive, cutting of the penetration, but showing good timing in stepping back and finding a player to block out. Minor thing that was noticeable just because so often we don't do it right. Took a hard fall on his back and had the wind knocked out of him going after a d-board. Was challenging a lot of shots defensively, even as we were largely ineffective defensively through the first three quarters. In the 3rd was one of the few players giving Reke anything to work with, contributing a post move to get it back down from 20, an offensive foul running over Big Ben, and a dunk off a Reke feed. Nonetheless we were getting blown out embarrassingly on our own homecourt, with the deficit reaching as high as 30, and JT started the final quarter on the bench as Westphal experimented with Dorsey in a "we don't roll over for anybody" lineup. It went so well that we almsot threated to get back into things late, and Jason never returned. Jason's giant -28 +/- jumps out at you after this one, but having watched the game, I can truthfully say that's more just an indication f the weaknes of +/- as a consistent indicator of anything. We were better with Dorsey, but JT played his role decently and in no way was the monster defecit all about him.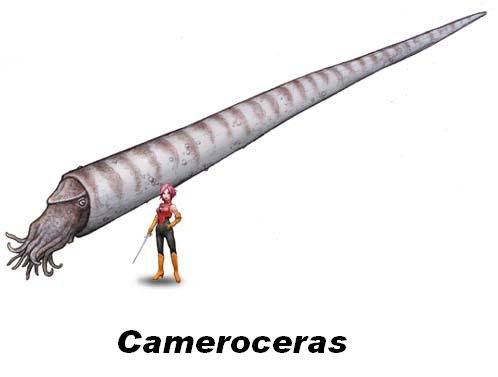 Cameroceras -- its fortuitous you decided to take a 100 million year break in your snorkeling after encountering the very weird Anomalocaridid and before runing into the nine foot long giant sea scorpion, or in between you might have gone in the water during the reign of the giant mollusks during the Ordovician period maybe 440-490 million years ago. The biggest of them found so far appears to have been this 35 foot long monster (its only a partial shell, so the length is a guess -- largest complete shell is of a smaller species that was only 13 foot long). Not the most maneuverable structure around -- the squid in a tube basically. What I want to know is what do you do if you suddenly get an itch 20 feet back there down your shell?? No wonder they died off.
Greene ( D- )
-- and the up and down continues with Donte as this one constitued a shot in the foot to his chances of hanging onto the starting position -- of course all the controversy here has highlighted what Westphal's normal response has been to a guy having a bad game -- insto benching. Showed some good hustle trying to save the opening tip, going to the floor chasing it, and after a missed a jumper, came up with a nice steal in the open court. But that was largely to be it for his positive contribution. never did have an impact on the defensive side of the ball. In the 2nd was back in after Landry went down with 3 fouls but did nothing other than miss the side jumper. Started the third with a bad pass turnover off the post drop off. Brought the ball up and forced a wild drive. And he and Omri combined to watch Rip light us up as the lead exploded. Left the game soon thereafter never to return. Very disappointing outing given the whole coming home for his birthday promotion or whatever. Would have thought he would have been amped unless the distractions around the team were weighing on people's minds.
Meganeura -- I mean, now who doesn't think a yard long dragonfly is cool? After surviving your ocean enounter with the giant sea scorpion 400 million years ago, you could have just waited around for a hundred million years until the monsters came up on land with you. This was only possible during that era BTW because of the oxygen level. We are all used to the oxygen level here today, but it was much higher back in the late Carboniferous period/Permian 300 million years ago. The reason? Plants came out of the water first and spread all over the planet. And plants pump out oxygen. Took millions of years for animals to follow and catchup and start sucking up all that oxygen and turning into into carbon dioxide. One result: big bugs. The main thing holding down their size is the way they breathe. More oxygen = bigger bug. And of course bigger bug = cool.
Last edited: