Don't Make Me Use The Bat
Staff member
Maybe that effort was a really bad April fool's joke??
Anyway, theme...well, was originally going to try something April Foolish, but couldn't figure the angle, the research was taking way too long, and with the blowout we played way more people than I had material. Besides, I wanted a pickmeup. So I figured out a way to do another pretty girls theme while maintaining completely implausible deniability. In honor of the only current NBA contest in which Sacto is still in the running,
NBA's Hottest...er...I mean Most Talented Dance Team Members.
Artest ( A- )
-- had himself a big game. Got off to the good start going inside against the bigger Odom and taking him entirely out of the game with foul trouble. And then on the other end, Ron, with a LOT of help, largely kept Kobe in check. Or at least kept the scoring in check. Kobe significantly controlled action for stretches in this one by passing to take advantage fo all the overplays and traps we were throwing at him. In any case, Ron was getting it done on both ends of the floor, and in the first half had effectively stymied BOTH of the Lakers top two guns. But he needed some teammates to come along for the ride, and unfortunately Ron was the only guy to play a compelte game for us. Kevin scored in the first half, Salmons gave us a burst in the second, but nobody was there all game as wingman, and the defense...the defense was just atrocious by basically everybody except Ron.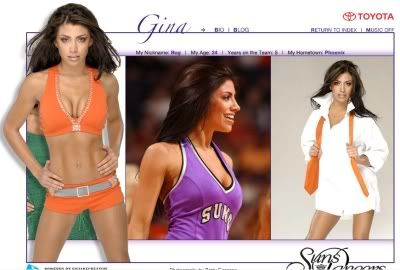 GINA (Phoenix) -- and I wanted to lead off with this one because...damn. I would say that the Suns are pulling out the big guns and gunning for Miami, but her little bio thingie says she's been wiht the team 5 years. Not sure how I missed THAT. In any case, her squad got robbed by what must have been some bored (and blind) hackers from Denver in the first round, so its moot.
Reef ( D+ )
-- grabbed some boards early, but nothing else, and got into foul trouble. Did have his one impressive take of the night as always, but of late that has basically been ALL he's been doing. One reminder that he used to be a talent, and then...nothing. The solid boardwork at the beginnign gets him what he gets here. The 1-6 shooting, complete inability to stop anything coming down the lane, foul trouble etc., does the rest.
ERICA (Sixers) -- Meet Erica. She likes ice cream and apple pie. She's also all of 18. Which could almost make me feel predatory if I was not including her for what are her doubtless amazing dancing skills.
Miller ( C+ )
-- did little in there in the early going but get beat by Kwame a few times, but came back in the second to get some more of those fugly little inside scrum finishes, and then finally hit a tenatative little jumper at the close of the first half. Had another in the early third, and offensively this was not a terrible outing for Brad. The problem would come at the other end of the floor where...I really do not know how to explain what it looked liek for those who did not see the game. It was a complete slaughter int he paint. Just a slaughter. Layup after layup after post move after post move...a slaughter. And of course in a normal, non-Kings universe you would hope/expect your 7'0" tall center to maybe contest some of that. Er...no.
NATALIE (Cavs) -- this is Natalie, of the Cavs. And this is the only pic they had of her, such a lame effort doubtless being why their dance team got eliminated so quickly. I could have screenprinted her whole bio page, but then I fear you would have had to question this young lady's intelligence. So just stuck with the headshot. Great eyes.
Martin ( B )
-- in the first half actually got off to the better start than Kobe (at least scoring wise). And other than 1 or 2 forces, played within himself and had a very solid 15 3 and 3 at half. And was also crossing over that line between merely being a scorer and being an all around player by repeatedly making passes to help set up teammates. Not a Kobe first half, but a very good one in which he and Ron basically carried the Kings and kept them withing shouting distance. Unfortunately after half Ron mostly kept it up, but Kevin just got very quiet. I think he eventually got 8 second half points, but outside of a single three, they were quiet and irrelevant points. it was really Salmons in the second half who was scoring the big hoops for us, making plays to keep us close. Kevin...not sure what happened.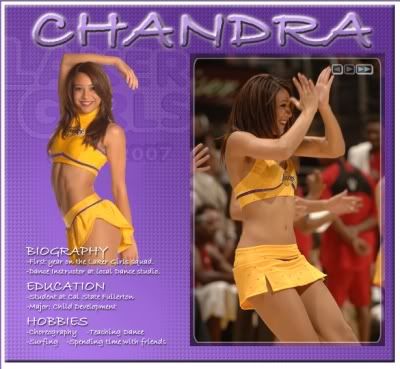 CHANDRA (Lakers) -- Yeah, yeah. I pondered whetehr I really wanted to include a Lakers girl given the game tonight. But this one was damn cute. And it is only her first year according to the bio. And she's a student, so mayeb she's from out of town. And its not really her fault she only got accepted to one school, and it just happened to be in L.A. And...well, she's cute. Er...I mean talented. Besides, we could always have the RCD take a little road trip, abduct this girl, and then submit her to weeks of intensive deprogramming until she fially cracks, admits Phil Jackson is Satan, and agrees to join our squad instead.
Last edited: