Don't Make Me Use The Bat
Staff member
10!
Well, there goes our margin again. Sort of serves these no defense teams right though. A couple of weeks back we pretty much ended the Knicks' playoff hopes because they refuse to play defense. Today we pretty much ended the Suns hopes because they refuse to play defense. And hey, we refuse top play defense too, and its just such a shocker we'll all be attending that lottery party together. Now let's just hope that we didn't screw ourselves out of a draft position with this one. Because we don't only not play defense, we are stupid as well. And that's a nasty combo.
Theme = with the season running low I think its time to do the final Top 10 Kings thread, and so its going to be
Top 10 PGs in Sacramento Kings History
Nocioni ( A- )
-- back in as a starter, and you can see how maybe this is not a great thing for our lottery hopes. Had some problems with Hill early on defense, but was very active on offense, drained open threes, and repeatedly cut along the baseline for inside scores. Just outworked Hill and scored at will in the third. Did not contribute much in the 4th, but the damage was done.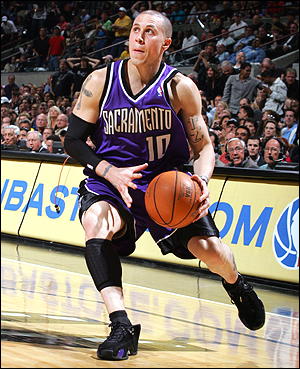 #1 Mike Bibby
Career Stats
With Kings: 99-04
Best Year With The Kings: 04-05 19.6pts 4.2reb 6.8ast 1.5stl 0.4blk
This tells you most of what you need to know about the Kings PGs over the years, and perhaps explains why to this day as a fanbase we are obsessed with finding a "pass first PG" etc. etc. Mike was of course very good for us through our best years, a great shooter, and just as importantly a clutch shooter. And Jerry would tell you, and did again and again, that he was "All-Star caliber" even when he was not. But he wasn't the most creative of points, did not play defense, and he never did have the complete game to make that All Star game, leaving PG as the only position in Kings history to have never seen a single All Star season in 25 years.
Thompson ( A- )
-- major impact in the early going using his superior size (over Barnes, who was just awful) and superior quickness (over Shaq) to bounce around for offensive boards. Made things tough by smoothly stroking long jumpers as well. Funny thing was that he wasn't there at all on the defensive glass, with his first 4 boards all coming on the offensive glass and the Suns smallballing keeping him away form the defensive boards when Shaq wasn't just muscling him in there. Slowed down after half as Jared Dudley of all people proved to be somewhat of an answer for the Suns, and was shaky from the line.
#2 Jason Williams
Career Stats
With Kings: 99-01
Best Year With The Kings: 98-99 12.8pts 3.1reb 6.0ast 1.5stl 0.0blk
And this one can certainly be argued. Not on impact, where JWill was arguably one of the most important players in Kings history, nor even on talent, where you could make a solid argument he might actually deserve to be #1. But on actual production...the JWill of the Kings era was always two parts flash for every one part substance, a none too bright kid with a special gift for passing and showmanship. In the end we decided we needed to get a more serious and sober point if we were going to win a title, and hence the arrival of Bibby. But there is no doubt that JWill was one of those foundational pieces that helped set and establish the tone for those great teams, and helped put Sacramento on the map not only nationally, but worldwide.
Hawes ( A- )
-- for three quarters out there he was doing ok, but predictably losing the battle rather badly against Shaq. Power problems of course, but we got him some early hoops on the move slashing toward the rim o at least lend the matchup some balance. Nonetheless before half we were better with a Thompson/Noc scrappy frontcourt. Started to pepper in some jumpers in the third to help, but continued to not be willing to body Shaq, allowing the big man, scratch that, enormous man, to repeatedly dunk back the other way. Came back in the 4th though, and upped this grade and the impression of his game considerably. Before the 4th it was maybe a B- or some such. Helping in some places, but his wimpy fear of body contact was making it all too easy for Shaq the other way. But after his late return, while the defense on Shaq inside was still splotchy the effort was better, and on one play he did actually chase Nash down from behind on the break and poke the ball away. So maybe the key to our defensive woes is that Spencer shouldn't guard centers but PGs instead. Hit some big jumpers down the stretch to help cinch it, and emerged from nowhere as the game's leading board nabber as well to get his second 20-10 (the bare minimum 20-10). I almost don't like going into the As on this given my feelings about the first three quarters. But in the end it was 20-10, there was no real garbagetime so it was all legit, and it was against a major opponent, so I think it warranted for a young big.
#3 Reggie Theus
Career Stats
With Kings: 85-88
Best Year With The Kings: 85-86 18.3pts 3.7reb 9.6ast 1.4stl 0.4blk
Once I decided not to call our erstwhile coach an OG, but rather a PG, this one became fairly easily for me. Reggie was not really a PG, not really. He was a talented if self-asborbed gunner with ballhandling skills. But notice that that gunner with ballhandling skills still averaged 9.6ast in his first season in Sacramento. 9.6. EASILY the most of any Sacramento PG. Even when taking into account the different era, that is still a ton, and he averaged 8.8 the next year before we drafted Kenny Smith to get ourselves a purer guy. And for better or worse, Reggie was the leader of that first crew of breezy defenseless jumpshooters who arrived in town, and ironically until recently he was the leader of the current group of defenseless jumpshooters as well.
Martin ( C- )
-- so bad were the Suns on defense in this one that Kevin was essentially not needed, which is a good thing given that he was largely not there as one of the few Kings to truly struggle. Got off to the slow start but was more uninvolved than hurting the Kings and he hit open shots when they were presented. Began to get chunky in the second quarter however, with Kevin maybe out of rhythm due to not being the featured guy. Forced a few things, turned it over, began to look to the refs to bail him out. Hit a couple of shots in the third as we looked like we were almost going to blow this one open at one point, but also turned it over and repeatedly missed or was denied around the rim. Not a factor late either, and just in general a down game all around that did not matter with pretty much everybody else in the top 7 having good games.
#4 Kenny Smith
Career Stats
With Kings: 87-90
Best Year With The Kings: 88-89 17.3pts 2.8reb 7.7ast 1.3stl 0.1blk
Perhaps a bit of controversy to this choice, as I picked him over a longer term King who comes up next, but I think that Kenny was the superior player. Nicknamed "the Jet" (just watch TNT) for his quickness (alas like many quick players the flipside was that he was scrawny and soft), he was an effective shoot first PG that I think could never quite outlive a) not being the star we needed; and b) being selected by us instead of local boy Kevin Johnson (who was picked next). Which was of course our fault, not his, but led inevitably to the perception of him as a disappointment in Sacto. He averaged 17 and 8 in his second season for us though, and went on to win two titles as a roleplayer stretching the defense for Hakeem in Houston.
Last edited: