kingsfans.com presents
Kings Week in Review: Week 5
​
by Stephen Tetsu, also complains about lack of playtime to foreign press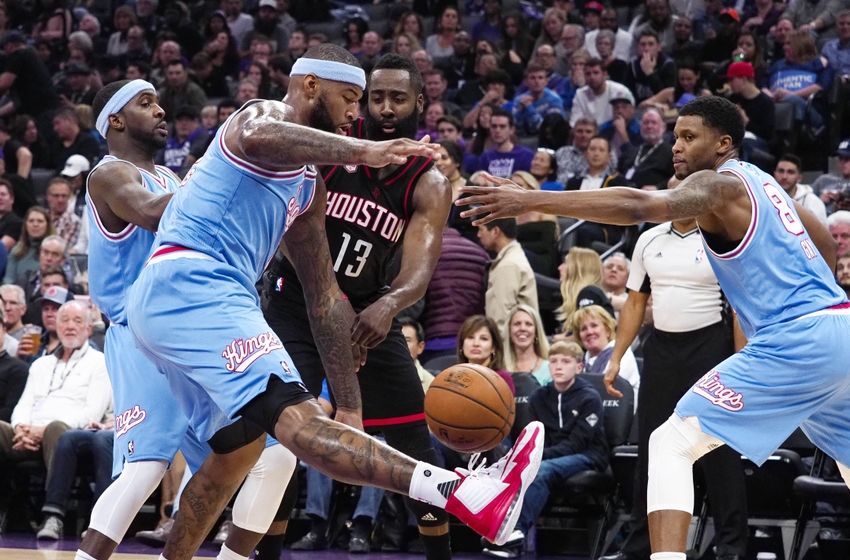 Boogie'd probably be a beast at soccer too.
​
Well that was certainly a week. After coming off of Week Four with the usual parties predicting doom with the other usuals countering that, the Kings played a gung-ho Week Five, featuring a solid win over the the Thunder, an incredibly-awful-start-fueled loss to the Rockets, and an also-awful-start that turned into a win thanks to the Kings simply being better than the Nets.
It was ugly at times but, when it comes down to it, the Kings went 2-1 this week, bringing their total record up to 7-10 with several more winnable games coming up in the immediate future. Considering how a vocal portion of the fanbase wants to blow the team up now, its a relatively positive outlook for a team that still appears to show up to games a quarter late every night.
Omri fans should be happy as, after a few weeks of benchwarming, the Israeli has played a substantial amount of minutes over the last two games and not particularly done anything this time around to warrant him not getting more minutes aside from not being a defensive wunderkind, which, in all fairness, was never going to be his calling card anyways.
Meanwhile, Garrett Temple continues to play the best perimeter defense this team has seen in an actual decade (or since that year before Ron Ron starting pushing his wife down stairs again), at times single-handedly defense-ing and hustling the Kings right back into games after the starters aside from Boogie sleepwalk their way into another first quarter deficit.
Ty Lawson is also beginning to look like he's found his role on the bench, not as a benchwarmer or anything like that but as a scrappy floor general. He's not particularly good at anything anymore but he tries and he no longer seems to be afraid to touch the ball like he was to start the season.
Really, 17 games into the years, the Kings remain a collection of incompletes and not-sure-anymores with the added addition of the best big man in the NBA, though according to one person who may or not be too busy admiring the "rippling muscles" of the nearest European player to practice proper journalism he may now simply be too obese to remain on the team. Such a shame too. I quite enjoy watching Boogie simply demolish anybody the opposing teams are dumb enough to put in his path.
The Team
Boogie -
Third in Sacramento franchise history in scoring. God willing, he'll run away with first place before his stay is through.
Rudy -
half-man, half-frustrating-basketball-enigma
Barnes
- All of his offensive plays are either mindboggling turnovers or highlights.
Afflalo -
Still working on trying to be worth his contract.
Collison -
Solid.
- - -
Lawson -
Also solid. Still can't make a perimeter shot
Temple -
DPOY. Seriously.
Kosta -
The world's worst good basketball player. Rebounds. Scores around the rim. Looks awful doing it.
Ben -
The amazing vanishing man.
Omri -
Apparently in the MVP race now.
Rest -
​
Awards Time
Tony Delk Memorial Award -
Trevor Ari- I mean, Larry Bird. Trevor Ariza is a good basketball player but he's not
that
good a shooter.
Mikki Moore Award -
Matt Barnes,who always look like he's either going to punch a guy or give him a hug. Also has the wonky hairstyle working for him so there's that.
Shareef Abdur-Rahim Award -
Arron Afflalo. He's had the old man game down since coming into the league. Now his body appears to have caught up.
Jason Hart/Andres Nocioni/Ramon Sessions/Marco Belinelli Award -
The entire team in the first quarter of late. This is a first. Instead of a single player, I decided to give the statuette to any entire
quarter
of basketball. That's what happens when you let teams get up big right out of the gates.
WTF Moment of the week -
Lineups. Lineups. Lineups.
Coming Up
Monday, 4:00PM PST: @wizards
Another winnable game. We win this and we're at .400 eighteen games into the season, which is probably some sort of record for the Kings since Bush was still president. The Wizards have two good guards and a hell whole of a lot of dysfunction. You keep Wall and Beal at bay and you win. It's that simple.
Wednesday, 4:00PM PST: @76ers
Embiid has made the Sixers surprisingly fun to watch. They still aren't all that good but Embiid could drop a big night on you before he hits his minute limit and turns back into a bench pumpkin. Sauce Castillo has started to look like an NBA player. But this is still the Sixers and still a team you have to beat to get anywhere (primarily .500 basketball).
Friday, 4:30PM PST @Celtics
The Celtics are a bit of an enigma. Theoretically they should be a really good team but this season they've had to rely on heroball from IT to win a lot more than they did last season. Considering how Atlanta Hawks fans were convinced last season that Horford is a better player than Boogie, the Celtics obviously shouldn't want Demarcus on their team anymore. This'll still be a tough one to win.
Sunday, 4:30PM PST @Knickerbockers
Another enigma team. Phil Jackson made the bold/dumb gamble to assemble a "superteam" in Madison Square, this superteam being Carmelo, Porzingis, and the ghosts of Derrick Rose and Joakim Noah. I honestly think Brandon Jennings has been a better point guard for New York than Rose has been this season. Phil Jackson is also obsessed with having the Knicks play the Triangle for some reason. I quite frankly don't know anymore.
Let's keep winning and get on the right track!
Last edited: