Don't Make Me Use The Bat
Staff member
Ahem.
There was much dismay amongst the Consortium, so I did the only reasonable thing and declared this to be a
Pretty Girls
night no matter what the highly deceptive final score said. We got our asses handed to us.
Your Graders Tonight Will Be:
Bricklayer
spudfan
sdballer
Capt. Factorial
*due to some confusion about the 5th grader, I made a mistake on my own coverages and the SFs notes are going to be sparse. Good news for Salmons. Not so good news for Travis.
Boxscore
Stats: 19min 3pts (1-6, 1-3, 0-0) 1reb 2ast 0stl 0blk 0TO
Salmons ( D+ )
-- you know, despite a mind numbing lack of talent at this point in his career, I am not as mad at John as his completely punchless 1-6 in 19 minute performance would seem to dictate. The reason is this: watching the early game closely, what we had from John was more complete invisibility than complete awfulness. And the distinction there that can be drawn is between John and Grevis and PPat in particular, with Thornton not far behind. Now the few affirmatively statistically positive things that John did on the night all came very early as he hit an open corner three and dropped secveral standard little passes to teammates for assists. But after that dried up and it was just soul sapping brick after soul sapping brick on offense, several of them BTW asinine shots with less than no chance, what kept his performance from becoming a complete rout was what appeared to me to be correct play on defense. You notice I word that carefully. Not good play, or strong play, or defensive impact. But "correct" play. The sort of thing that coaches value sometimes more than guys who can actually help them win. In fact I'm not sure a single basket until near the end of the first half was actually Salmons' fault. Grevis was getting completely destroyed. PPat was playing for the other team. Guys were screwing up and being beat, but not John. He just quietly seemed to make the right rotations and half crowd the paint, half run out at rotations, and never be entirely out of the play. Such a thing should never stand out. Put him on one of Chicago's teams doing that and he would have turned in the very worst defensive performance in the entire lineup. But on our team, he was the one starter doing his job defensively, if nothing much more.
--Brick

Antoinette Kalaj
Stats: 21min 2pts (1-6, 0-2, 0-0) 4reb 0ast 0stl 0blk 2TO
Patterson ( D+ )
-- Patterson continued to struggle tonight. He only made one of his six attempts and didn't record an assist. Most of the looks he was getting were good but they continue to be off target. His defense was neither terrible nor good, but just kind of there. Somehow Patterson is going to need to figure out where his shot went because if he isn't knocking down the open looks he doesn't add anything positive to the team.
--Spud
Moira -- I asked the other Consortiuum members to chip in with their own Pretty Girls, and hence a little randomness in organization. This is SKD member Moira, spudfan's selection.
Stats: 18min 8pts (3-8, 0-0, 2-3) 7reb 0ast 3stl 0blk 2TO
Cousins ( D- )
-- I struggled with a blanket F for all starters, including Cousins, or giving him the slightest of bumps. I ultimately went with the D- for one reason. One, he has to get touches in better scoring position. To leave him stranded in the 1st half while the rest of the starters toss up bricks is unacceptable. He still grabbed boards and came up with steals and you could tell he wanted to be more involved. You could tell he started forcing once he came back and your lone stud should never be in that position. That being said, DeMarcus is going to go through nights like these and he has to mature, put this team on his back and show up with effort even if the touches aren't there. We saw him melt down slightly at the end of the Clippers game and again tonight. You simply can't be a superstar if you quit on games that aren't going your way. It's early in this transformational season and there are a ton of positives to take away from Cuz so far. The body language and effort tonight aren't one of them. How he reacts to being benched by Coach Norman Dale with the rest of the starters will be telling. Your move Cousins.
--sdballer
Camilla Luddington
Stats: 20min 7pts (3-9, 1-3, 0-0) 1reb 0ast 1stl 0blk 0TO
Thornton ( D )
-- there were a couple of little bursts of reasonable play in this one for MT, but in general he was right back to just not getting it. He began things in classic not getting it fashion and forced two terrible 1 on 1 drives right into his opponent's (Klay Thompson's) chest. Just stupid selfish attempts. Wanted to draw the foul I guess. Just stopped he ball and charged forth. I didn't watch Marcus in college but sometimes I wonder if no coach ever taught him how to play in a system before. He did hit a three from Salmons late in his first quarter stint and then nearly airballed his next one just before leaving. On defense he was predictably ineffective, but watching him I think he might only have been our third most ineffective defender (Grevis, PPat). There was some effort on defense, but he's simply not very good at it. He would try to keep up when the Warriors ran plays toward him, but he was always late and trailing. In the early third the starters briefly looked like they were going to get their act together, and MT just as briefly was helping. He made a nice decision on a swooping drive dumping it in to Cousins, something he has rather conspicuously done 4 or 5 times in this early season that makes you think maybe some part of him is listening. Then followed that by jumping the passing lane and breaking out for another hoop to suddenly get us within 12. Unfortunately that was it for his good play. Klay dumped a three in his face, MT forced a drive and fell down, and so Klay went down the other way and bombed
another
three and just like that we were right back to being down 18. As the wheels fell back off got dumb and selfish again and soon enough was gone and no longer needed with rookie finally sputtering around a respectable effort off the bench.
--Brick
Mekenna Melvin
Stats: 24min 1pts (1-7, 0-3, 0-0) 1reb 3ast 0stl 0blk 0TO
Vasquez ( D )
-- Vasquez started off the night looking for his own shot, missing a three and then hitting one of his patented floaters in the first few possessions. It was the last shot he hit. Greivis was credited with a whole three assists on the might, and of those, I only counted two so there might have been some "Curry Cooking" going on. (Check the Oracle Arena Curry Cookbook under Assist: "Take one Curry pass, add two dribbles, and mix in three steps. Shoot until good. Serves four players at a time.") In addition to doing basically nothing for the offense, Greivis was unable to stay in front of Curry for most of the game, though it's true that Keith Smart defense snuck back into town tonight and he was getting practically no help on the far side of Warrior screens. Not that it's an excuse, nor was the foul trouble that kept Greivis out of much of the second quarter. Vasquez actually did play one solid stretch on both sides of the floor during the game, and it happened to coincide with the run we put on in the early minutes of the third quarter when it looked like we were going to try to make a game of it. On one play he got the ball in the backcourt off of a deflection and sent a 3/4 court pass down to a streaking Cousins for a layup and a foul. On the evening, that was the second of two times that he hit Cousins in the paint, which might give us all an idea of some of what went wrong here. But after that spirited stretch, Greivis started to play some disinterested D, once holding his hands lazily at his side allowing Curry free rein to knife a pass into the lane for an Iguodala dunk, for which he was awarded a six-minute ride on the bench. With the game over, Malone tried the three-guard lineup with IT and McLemore, but Vasquez was lost playing off the ball and outside of going 0-3 in that stretch did nothing memorable except cede three minutes of PT to Jimmer. In closing, a terrible game. I could ask why Andrew Bogut was allowed to bear hug Vasquez on a screen, but the officials probably just thought they were good friends - it was certainly more love than he's going to get from me tonight.
--Capt.
Ingrid Bergman
-------------------------------------------------------------------------------------------------------------
Bench
Stats: 30min 12pts (2-10, 0-4, 8-9) 3reb 5ast 1stl 0blk 3TO
Thomas ( D )
-- In his first stint, IT looked like he was going to have another game where he played some solid defense. Of course, he was guarding Toney Douglas for much of that time, so he wasn't getting tested. To his credit, IT looked lie he was giving full effort to stay in front of Steph Curry tonight, it's just that it didn't matter. Curry was going to get whatever he wanted tonight. IT got switched up on Klay Thompson twice resulting in two post-ups and four points, Toney Douglas shook him off for an easy jumper, and even rookie Nemanja Nedovic got his chance, burning by IT late in the fourth but throwing a pass that was ultimately stolen by Ben. Thomas was credited with five assists but I suspect two of them were Curry Cooking (see Greivis Vasquez). The last of them was the rare assist to Chuck Hayes midway through the third - also the final assist of the game by a Kings PG not named Jimmer. IT did little to help the ball movement for the team, getting the ball to Cousins in the paint exactly once and repeatedly going for his own shot despite the fact that nothing was falling. Thomas had two points at the half (both on delay of game tech FTs - he had three overall on the night), and before he hit his first FG early in the fourth quarter he was 0-7 from the floor. The non-metaphorical "roll over and die" moment happened with three and a half minutes left in the fourth when IT went to the ground, rolled, and just spit the ball out to nobody like it had cracked a fat joke about his mother. Of course, the game was already well over by then and perhaps we can see that action as a passive-aggressive retaliation for Cousins being benched most of the second half.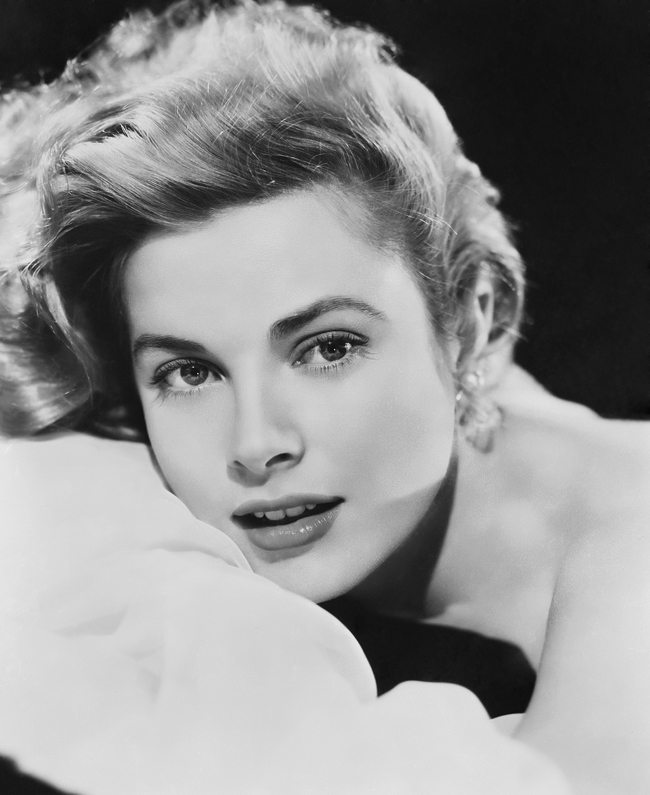 Grace Kelly
Stats: 30min 19pts (8-17, 3-9, 0-0) 4reb 1ast 1stl 0blk 2TO
McLemore ( B )
-- welcome signs of life in the rook for the first time since preseason. Offensively I actually don't think this game was as good as the numbers. He led us in points at halftime with 13, and I didn't even think he was playing that well. Just better than everybody else. He was really bombing shots at an alarming rate, got a leakout dunk, spiced things up with a halfcourt chuck to beat the first quarter buzzer, which is just kind of lucky, got two scattered threes in the latter minutes of the half, and once turned disaster into gold as he got trapped and nearly lost his dribble in the corner vs. Iggy, and was able to spin, elevate and hit a tough baseline jumper. Along the way he just continued to have woeful dribbling issues and looked kind of depressed when he tried to turn the corner on one drive, except his body made the turn while the ball did not. Once he missed a three so badly it looked like John Salmons had shot it, slamming it off the backboard without even getting rim (he got 3 three pointers on the night, but it took 9 attempts). When he returned in the third, he initially struggled, missing a three, having Klay score back in his face, getting stripped again trying to post Curry etc. But what kept the grade marching forward was I thought a solid effort on defense, raising some interesting issues. I detest the Jerry Reynolds inspired loserball idea of playing a skinny 6'4" rookie at SF, but watching him against Golden State he was generally able to stay with Klay Thompson and the Warriors reserves. Sometimes that mattered, sometimes they just splashed the shot in his face anyhow, but he didn't get badly burned very often. Which is a big enough turn from last game to again raise a question mark for me about his ability to handle quickness laterally. PGs blow by him. Jamal Crawford creates space at will. But give him a larger, slower guy like Klay, and the effort was there and he stayed with him. The possible implication is that he might be better defending 2/3s than he is going to be defending 1/2s, which would make the idea of him defending SFs less of a leap than it otherwise would be. In any case, holes in the game and it took him until garbagetime to start putting up numbers in anything but the scoring column. But the things he did well continue to be things that look more structured, and look more like things a smart coach can utilize and build around than the things his competitors for minutes are doing.
Ana Ayora
Stats: 27min 15pts (4-7, 1-2, 6-6) 12reb 1ast 2stl 1blk 0TO
Outlaw ( B+ )
-- nobody gets an A in a game like this, but if anybody deserved one it would be Travis Outlaw. Not often you are going to hear that line. And really, its not the garbagetime heroics mocked by the Golden State announcers that drives this grade so much as an almost unprecedented, for Travis, focus on actually rebounding the ball from the very beginning of his minutes back when there was still a game on. All that height and athleticism, typically completely wasted in Travis's lost in the fog meandering midrange jumpshots,, was suddenly being put to good use as he waded into the interior fray and chased down rebounds with a passion. if that's not completely unprecedented in his time in Kingsland, its close. Offensively he was efficient, although doing most of his damage once it no longer mattered. Defensively he got into more adventures than did the solidly system playing Salmons, but he also made more good plays as well. Travis Outlaw was our best overall player in this one. And hence, we lost rather badly.
Dreama Walker
Stats: 16min 3pts (1-4, 0-0, 1-2) 1reb 0ast 1stl 0blk 0TO
Hayes ( D+ )
-- Chuck was the one sub who was bad enough tonight that he didn't get to run out the game with the rest of the JV team. Not sure what can really be said about the ChuckWagon. He's short, slow, can't score but he can really defend a certain type of big. That wasn't our problem tonight so he couldn't really contribute. He did airball a hook shot and only grabbed one board in 16 minutes, but to be fair, we didn't defend well enough to have many misses. Until we get a legitimate defensive big, Chuck may still have a role but Malone is going to have to figure out when he should and just as importantly, shouldn't be out there. On a side note, I always find it odd that the player talked about the most on the team for his professionalism and leadership has shown up in the worst condition ever since he received his contract
Stats: 22min 12pts (5-8, 0-0, 2-2) 10reb 2ast 0stl 0blk 5TO
Thompson ( B )
-- Thompson had a good game when using the Thompson Scale of success. He had the usual couple of boneheaded charges and turnovers we have become accustomed to but his effort was there all night. The most impressive play of his was an offensive rebound where he ended up on the floor before a timeout could be called allowing us to retain possession. Many of his field goals makes (and misses) came on a step back jumper from the corner which showed his reliable jump shot. In years past he has shown the ability to knock down the elbow jumper and it wouldn't surprise me to see him back in the starting lineup to do just that if Patterson continues to struggle.
Stats: 6min 2pts (0-1, 0-0, 2-2) 2reb 1ast 0stl 0blk 0TO
Mbah a Moute ( INC )
-- suddenly entered the game late in the first half, got an offensive board, but missed the finish inside. Was back for two more equally brief stints at the end of the third, and end of the 4th, when he got 2 FTs. Nothing much to report here except he appeared to compete on the boards. At least he's still physically able to play.
Stats: 3min 2pts (1-2, 0-0, 0-0) 1reb 1ast 0stl 0blk 0TO
Fredette ( INC )
-- spin and hit a tough shot in the late garbagetime. Easy to mock Jimmermania, but truth is that I actually was thinking maybe we should throw him out there in the late 2nd quarter seeing how pathetic most of our other guards were tonight. But just got the standard mopup minutes.
Stats: 3min 0pts (0-2, 0-0, 0-0) 1reb 0ast 0stl 0blk 0TO
Ndiaye ( INC )
-- may never score a point for us at this rate. This time was right at the rim for not one, but tow more dunk attempts, and got smushed on both of them.
Last edited: